WVCO'S 4th ANNUAL BBQ
WVCO 4TH ANNUAL BBQ

  It just keeps getting better and better!  From feedback received, our 4th Annual BBQ was a   huge success!  We were told by many when departing that it was the best yet!  And it was – a perfect day, gorgeous grounds, fantastically delicious food, great music (Denny had new equipment and sounded better than ever), the fun of the Prescott Regulators and their Shady Ladies and, best of all, the most gracious of hosts, Jim and Barb Buchanan.  We can never thank them enough for sharing their beautiful ranch with all of us!  And they prepare all the food themselves – for 300 people!  The ambience was incredible and it was a joy to see neighbors visiting with friends and making new friends.
WINNERS!!!  We are pleased to announce our 4 winners of door prizes!  They are Char Malone, Sherry Dickenson, Eileen Davis and Karen Patterson!  Congratulations ladies!
Diane and I want to thank everyone who helped with this event behind the scenes (choppers, shredders, parking crew, set up, tear down, etc.), as well as Denny Kuller for great music, as well as the Prescott Regulators and Shady Ladies for helping point us in the right direction and serve us all that delicious food! And special thanks to Military Graphics for supplying us with some wonderful materials and designed the Williamson Valley License Plates!
Thank you all for attending!
Diane McKelvey and Sandi Brown
---
Important Information
Supervisor Craig Brown thanks you all for your patience as the safety improvements continue on Williamson Valley Road.  The inconvenience will be well worth it once these features are in place.  The good news is the work is proceeding right on schedule and should be completed by the end of the month.
******
WILLOW CREEK BRIDGE REPAIR ON IRON SPRINGS ROAD IN PRESCOTT
Please be advised that Technology Construction, Inc., in conjunction with Yavapai County, will be performing bridge construction on Iron Springs Road at the Willow Creek Bridge. Bridge construction will include removing half of the current bridge deck, replacing steel stringers, repairing cracks in the abutments, new guardrail placement, and resurfacing the new bridge deck. Construction will begin on May 29, 2018, and continue through September 20, 2018. Construction activities will be Monday through Thursday from 7:00 a.m. to 5:30 p.m. Motorists will encounter lane restrictions, reduced speed, and flagging operations in the construction zone. Technology Construction, Inc. will be implementing a 24-hour temporary traffic signal at the bridge. Motorists should expect minor delays and allow extra time to get through the construction area. Please follow all traffic control devices, including the traffic signal, when traveling through the work zone.
For additional information, please contact Yavapai County Public Works at 928-771-3183 or visit us on the web at www.yavapai.us/publicworks.
******
from 2018 Jun 01 8 a.m. until rescinded
Area Closure Implemented on the Bradshaw Ranger District
Friday, June 1st @ 8:00 AM
Due to increasing drought conditions, very high fire danger and public safety concerns, the Prescott National Forest will implement an area closure on the Bradshaw Ranger District Friday June 1st, 2018 at 8:00 AM.
Areas outside of the closure will remain in Stage II Fire Restrictions.
Bradshaw Ranger District Area Closure Description:
Starting on the northwest corner of the closure area at the Prescott National Forest (PNF) boundary and County Road 10 (Iron Springs Road) intersection. Following County Road 10 north and east to the intersection of FSR 74 (County Rd 120, Skyline Drive). Following Forest Service Road (FSR) 74 south to non-motorized Trail 264. Following Trail 264 south and east to FSR 373 (Thumb Butte Road). Following FSR 373 south/southeast to FSR 9402C. Following FSR 9402C to the Mount Francis Non-Motorized Fuel Break. Following the Mount Francis Non-Motorized Fuel Break south/southeast to meet State Hwy 89 (White Spar Road). Following State Hwy 89 northeast to the junction of Indian Creek Road (County Rd 102). Following Indian Creek Road (CR 102) to National Forest/Ponderosa Park private property boundary. Following National Forest/Ponderosa Park boundary south then east to County Rd 101 (Ponderosa Park Road). Following County Rd 101 south to the junction of FSR 97B. Following FSR 97B south to FSR 667. Following FSR 667 south and east to FSR 9403C. Following FSR 9403C north and east to National Forest/private property boundary. Following the National Forest/private property boundary south and west to FSR 52B. Following FSR 52B to FSR 52 (Senator Hwy). Following FSR 52 south and east to County Rd 59 (Crown King Rd). Following County Rd. 59 north and east to the Prescott National Forest (PNF) boundary. Then following the PNF boundary south until it turns to the west. Then following the PNF boundary west until it turns north. Then following the PNF boundary north until it turns west again. Then following the PNF boundary west across the eastern intersection of County Road 60 and continuing to the western intersection of PNF boundary and County Rd. 60. Following County Rd. 60 north and west to the PNF boundary. Then following the PNF boundary north back to where it intersects with County Rd. 10 (Iron Springs Road).
All approved vehicle travel roads, and non-motorized trails which the closure boundary parallels but does not overlay are open for public use except for the following prohibited roads:
• Forest Road 97B
• Forest Road 9403C
• Note: Traveling upon Forest Fuel breaks is prohibited.
The Prescott NF reminds concerned citizens that forest closures are not taken lightly, as they affect many people, businesses, partner agencies, important restoration and other work on the forest, and the public. When forest closures are in effect, the public is prohibited from entering the closed areas. Exceptions may be made for Forest Service personnel conducting official business, certain contractors, and permit holders. The Forest Service cannot deny private land owners access to their land which may include access through the Forest. Fire Managers ask our neighbors to be vigilant and careful as they access private land.
Violating any fire restrictions is a violation that carries a mandatory appearance in federal court, punishable as a Class B misdemeanor with a fine of up to $5,000 for an individual or $10,000 for an organization, or up to six months in prison, or both.
The public can obtain additional closure information and view maps by visiting the Prescott NF Web Site
Kirkland Mine Project
For those of you who did not see this, following is a reprint of an article that appeared in the Daily Courier.
Originally Published: May 21, 2018 6:05 a.m.
The U.S. Bureau of Land Management has received results of scientific tests indicating there is no erionite or harmful asbestos-like materials present on the proposed pozzolan mine in Skull Valley. Residents of Skull Valley and the surrounding area have voiced concerns over the possible presence of erionite, water use, dust and increased traffic.
Five completed studies on the 88 acres of public land and adjacent private property have been filed with the BLM: geochemical assay, jurisdictional waters, evaluation of Skull Valley Ranch Wells, traffic impact, and supplemental traffic analysis.
The results of the geochemical assay testing should put to rest the misinformation about the presence of erionite. It just isn't there.
Five material sampling and testing programs took place over two years – some funded by Kirkland Mining Company, others funded independently by the Bureau of Land Management.
Opponents believed erionite, or some other form of harmful asbestiform silica, was present in the pozzolan materials and would create a dangerous health hazard for the nearby community and along proposed transportation routes through Prescott and Chino Valley.
KMC hopes to quarry and crush rhyolite and rhyodacite volcanic tuffs for use as a supplement in commercial concrete production. BLM and the Arizona Department of Environmental Quality (ADEQ) require various safety studies prior to initiating mining activities.
"The owner has been very proactive compared to most of my mining operators," said Rem Hawes, BLM Hassayampa Field Office manager. "This particular operator has stayed in compliance with all requirements, has not balked at any of the requests we make on an operation like that. And we've made pretty detailed requests of her."
KMC Engineer Joe Thomas, who has spent 30 years working with pozzolan mines in Idaho, said pozzolan fortifies and strengthens concrete. Pozzolan "densifies" concrete cement, so water and chemicals won't soak in.
He made his remarks during a Feb. 10 Community Outreach and barbecue event hosted by KMC President Areta Zouvos.
"From a health standpoint, I can assure you my lungs are fine. Every mine you open you have to get people educated and to understand dust is not a health issue, it's a nuisance," Thomas said.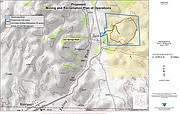 DUST
Some residents have been vocal in their fears of potential airborne carcinogens. KMC scientists conducted tests from 2015 to 2017, which resulted in no findings of identified airborne carcinogens.
Because of continued negative public comment, however, KMC owners allowed BLM to take independent samples which were analyzed by the BLM Soils Testing Laboratory in Wyoming and EMSL Analytical, Inc. Scientists looked for asbestos mineral, erionite and crystalline silica. No asbestos or erionite crystals, fibrous or otherwise, were identified.
BLM geologist Shelby Cave said, "The majority of the material found at the proposed Kirkland Mine site is volcanic ash, a type of silica that is not a known carcinogen. This volcanic ash is the material that would be mined as a high-quality pozzolan at the proposed mine."
Cave also said they found trace amounts of quartz, a crystalline silica. "If this type of silica is in dust form, it has the potential to be carcinogenic if it is inhaled. For this reason, the mining plan of operations for the proposed mine is required to include strict dust control measures in accordance with state and federal regulations, which are monitored by the Mining Safety and Health Administration and the ADEQ Air Quality Division."
Since silica dust, whether it is from quartz or volcanic ash, is a hazard that can be seen, Cave encourages the public to report any dust sighting to ADEQ.
The study indicates the risk of respirable crystalline silica at this proposed operation is lower than at most mining and quarry operations. It recommends KMC put in place "industry standard dust controls" monitored by ADEQ.
The mining company's May newsletter reports several measures its team and professional consultants are using to evaluate dust control measures. These include site layout plans to minimize haul roads, equipment shuttling, stockpile movement and other ground disturbances; defining water consumption and developing less water-intensive measures for dust control; looking at operating processes to minimize potential emissions points, and operating hours for equipment and power generators; using state-of-the-art equipment for monitoring and measuring emissions for consistent control and rapid response.
WATER
The mining process requires no water or chemicals other than water for dust control, the mining proposal states. KMC estimates an average demand of 28,800 gallons per day (gpd), with a maximum demand for 35,000 gpd, when mining operations reach full capacity in five years. This equals 23- to 28- acre feet per year over the projected 40-year mine life.
KMC is looking at purchasing, or contracting for water purchase, on property on which two existing irrigation wells are located north of the mine site. In November, it hired Plateau Resources to evaluate the condition of the wells and what effects might occur from pumping water from these wells.
Historically, ground water depths in Skull Valley wells are relatively shallow, typically less than 50 feet, the April 2 draft report states. The water level at one of the wells has dropped about 14 feet since the 1930s; the other has dropped four to five feet since 1951.
The proposed water use is expected to be between 2 and 4 percent of past agricultural and domestic water use in Skull Valley. Nearby irrigated ranchland has consumed at least two times more water than the maximum demand expected for the mine.
Although KMC's water use will represent a very small fraction of that used in the local area, Zouvos said she recognizes the need to conserve this resource.
TRAFFIC
On Iron Springs Road at the entrance to the mine property, the posted speed is 35 mph. However, the March 5 Traffic Impact Study by Lee Engineering indicates average speed is 58 mph heading northbound, and 63 mph southbound.
At full operating capacity five years from the start of operations, the company anticipates 80 empty trucks will arrive, 80 full trucks will depart in a 24-hour period. This means four entering and four exiting trucks per hour. A maximum of 27 employees will generate an additional 50 vehicles trips per day.
Yavapai County traffic guidelines do not warrant a right-turn lane or exclusive left-turn lane into the site because of low traffic volume and adequate stopping sight visibility. The study does recommend advanced warning signs for the site entrance.
KMC has three proposed routes; depending on the distribution and direction of haul material, the number of trucks on any designated roadway could decrease proportionately, the study indicates.
COMMUNITY
The estimated population of Skull Valley in 2016 was 526 for the area covered by zip code 86338.
Pam Kramer, a 20-year resident, attended the Outreach event. She hadn't spoken to the owners, engineers or geologists present in the room.
"Why did the mine close? There must have been environmental reasons. Seems to me it closed for a reason," Kramer said.
She also was concerned about dust. "This is a valley and we get a lot of wind. Will it stay or clear out?"
The Courier received an April 27 email from Thomas, who is also the executive director of the Natural Pozzolan Association. He offered several facts about natural pozzolans in general, and the KMC pozzolan deposit in particular.
"Natural pozzolans have been safely employed in high quality concrete for millennia – Roman structures such as the Coliseum and the Pantheon are among the first examples of such construction," Thomas wrote.
Without pozzolans, modern buildings, bridges, highways, and concrete infrastructure are susceptible to degradation, causing rapid and irreversible deterioration, he added.
Thomas believes the KMC pozzolan will be regionally important and highly valued.
The second point he makes is that crystalline silicates, such as beach sand, are considered a health hazard when in a respirable form.
"Most natural pozzolans, including the KMC deposit, are an amorphous form of alumino-silicate without the crystalline structure, and are the result of volcanic eruption. Amorphous silicates are not considered a health hazard by the federal Occupational Safety and Health Administration, but rather a nuisance dust," he said.
The results of the geologic studies and tests through independent certified laboratories have shown that no erionite exists, Thomas wrote.
Pozzolan aggregates have four times the insulation value of regular concrete. "To put that in perspective, a pumice concrete basement with 8-inch walls has the same insulation value as regular concrete with 32-inch walls," Thomas said.
For full reports, visit the project website at https://go.usa.gov/xnJFX. For more information on the mine, visit www.kirklandmining.com.
Follow Sue Tone on Twitter @ToneNotes. Reach her at stone@prescottaz.com or 928-445-3333, ext. 2043.
Backyard Gardner
May 23, 2018
Backyard Gardener
Africanized Honeybees
By: Jeff Schalau, Agent, Agriculture & Natural Resources
Humans have benefitted from honey bees since prehistoric times. They provide honey, pollen, and royal jelly that humans harvest from bee hives. Honey bees also pollinate flowers of many crop plants. One-third of the food Americans eat comes directly from the pollination honey bees and other insects perform. Apis mellifera ligustica is the species of honey bee which has been introduced, bred, and utilized by humans worldwide for centuries. The African subspecies of honey bee is Apis mellifera scutellata and are known for aggressive behavior in defense of their hive. Africanized bees are virtually indistinguishable from European honey bees.
Entomologists believe that the African subspecies developed their aggressive nature through the process of natural selection. African honey bees evolved in a tropical climate with frequent droughts and unpredictable weather. They also have dealt with a wide array of predators including humans. Conversely, European honey bees developed in a colder climate having four distinct seasons, abundant water, and a dependable forage base. In addition, they have been domesticated for many years and were purposely selected to favor a calmer attitude.
Africanized honey bees (AHBs) were introduced Brazil in 1950 to improve honey production in the tropics. They escaped quarantine in 1957, migrated north, and have been in the United States (Texas) since 1990. They were first seen in Arizona in 1993. Since then, many domestic animals and humans have been attacked – sometimes lethally. AHBs have been in Yavapai County since 1997 and have been recorded statewide. Today, any wild honey bee you come in contact should be considered an AHB. Additionally, we have many species of native, solitary bees which are not aggressive and pollinate native plants in addition to some crop plants.
Arizona beekeepers often call them "feral honey bees", collect them during swarming, re-queen them with a European honey bee queen, and maintain these hives for pollination and honey production. While these re-queened feral colonies can be somewhat more aggressive than European bees, they can be managed for production.
AHBs pose the greatest threat to people who work outdoors: farmers, construction workers, landscapers, yard maintenance workers, and even pest control workers. Like European honey bees, AHBs can sting only once. It is their sheer numbers and aggressive behavior when their hive is threatened that creates a potential threat. While foraging, AHBs are usually not aggressive. Most cases of AHB attacks have been traced back to disturbance of the hive. Sometimes, it is a lawnmower, weed eater, tractor, or other power equipment that sets them off. However, simply being too near a hive can trigger aggressive behavior.
The first sign of a potential attack is often a preliminary defense behavior such as flying at your face or buzzing over your head. This is a signal that you have entered their area and are seen as a threat. If bees become agitated, the most important thing to do is get away as soon as possible. Do not wait for them to calm down, try to retrieve belongings, or wave your arms to get them off you. A bee can fly at speeds from 12 to 15 miles per hour and most healthy humans can outrun them. So, RUN and KEEP RUNNING! AHBs have been known to follow people for more than a quarter mile.
Any covering for your head and face will help you escape. People that have been attacked say the worst part is being stung in the face and eyes. Once this occurs, your vision will be obscured and your chance of escape substantially decreased. If you have nothing else, pull your shirt up over your face. Take refuge in a house, tent, or car as soon as possible. The bees will find any opening, so make sure all possible entrances are sealed. Do not jump into water as the bees will wait for you to surface.
This article is not meant to scare you, only to better inform you and provide some strategies for responding to an attack. More people die of lightning strikes than insect stings. So, while reasonable precautions should be taken, the risk of serious injury or death from AHBs will remain low when compared to other threats present in everyday life. Visit the online edition for additional information (see URL below).
Follow the Backyard Gardener on Twitter – use the link on the BYG website. If you have other gardening questions, call the Master Gardener help line in the Camp Verde office at 928-554-8992 or e-mail us
at
verdevalleymg@gmail.com
 and be sure to include your name, address and phone number. Find past Backyard Gardener columns or provide feedback at the Backyard Gardener web site:
http://cals.arizona.edu/yavapai/anr/hort/byg/
.
The University of Arizona is an equal opportunity, affirmative action institution. The University does not discriminate on the basis of race, color, religion, sex, national origin, age, disability, veteran status, sexual orientation, gender identity, or genetic information in its programs and activities.
Regards,
Jeff Schalau
County Director/Agent Agriculture & Natural Resources, Yavapai County
Interim County Director, Mohave County
University of Arizona Cooperative Extension
840 Rodeo Dr #C
Prescott, AZ  86305
Phone: 928-445-6590 ext. 224
Fax: 928-445-6593
WVCO Trash Pick UP
Our next trash pick up is scheduled for July 23. Our new Committee Chair, Judi Williams, (thank you Judi!) is looking for more volunteers.  The more we have, the faster it goes and we always have fun in the process.  Please contact Judi by email at
judikaywilliams@cableone.net
or by phone at 778-1038 if you are willing to help us keep our mile of Williamson Valley Road clean as a whistle!
Annual Meeting
WVCO's ANNUAL MEETING – February 22, 2018
Our Annual Meeting was well attended and very interesting.  Neil Thomas's presentation on a partial history of Williamson Valley was fascinating and we learned a lot of interesting facts.  Yavapai County Supervisor Brown, Chief Deputy Dave Rhodes of the Sheriff's Department and Yavapai County Public Information Officer David McAtee provided us with a better understanding of the proposed extension of existing jail tax.  If you weren't there, you missed a lot.  Thank you to all those who attended!
Before Wildfire Strikes
Prescott Area Wildland Urban Interface Commission (PAWUIC)
Williamson Valley Community residents experienced the stark, albeit terrifying, reality of having a wildfire at their doorsteps in 2013. Having a Central Yavapai firefighter in full wildland turnout gear on your property and feeling the searing heat of the advancing fire made Jim Buchanan thankful that he and Barb had worked hard earlier that year to remove literally tons of hazardous vegetation from his ranch.
The Sundown Ranch had prepared for the inevitable wildfire.
Prepare is the first word in the new logo for the Prescott Area Wildland Urban Interface Commission, also known as PAWUIC. (pronounced: pou-ik)
yavapaifirewise●org
prepare ● protect ● preserve
Creating Defensible Space around your home will help to protect your property from a fire by providing a safer environment for first responders to defend your home. Creating Defensible Space around your home in the face of an advancing wildfire is risky business And if it is too perilous for firefighters to defend your home, they will move onto the next structure that they can safely defend.
The final objective is to preserve lives and land  PAWUIC has helped to create more than 32 Firewise® communities to achieve these three goals over the last quarter century.The Commission is an all-volunteer, non-governmental organization bringing together public safety organizations, government forest and land services, and homeowners to solve the issues associated with living in the wildland urban interface (WUI).
PAWUIC has brought more than $6 million in grants to subsidize landowners' costs to remove hazardous vegetation from their properties and create Defensible Space around their homes. We are currently working with the Natural Resources Conservation Service to develop a program for ranchers/homeowners along the border with the Prescott National Forest to create a fuel break.
Visit us at www.yavapaifirewise●org for more information or call 928-277-8032.
To help support PAWUIC and in recognition of the assistance it has provided to Williamson Valley communities, the WVCO Board recently voted to donate $200 to PAWUIC.
PAWUIC provides:
• Information and education on how to reduce wildland fire danger by means of an annual EXPO, meetings, training, newspaper articles, helping local communities gain Firewise® community certification, and maintaining its regional information web site.
• A source of grant funding for area fire department efforts to reduce fuels and mitigate other fire dangers.
• Training scholarships for area firefighters at the Arizona Wildfire Academy.
• Supporting efforts for economically and environmentally sound ways to utilize the biomass generated from fuels reduction and forest health projects.
• A most important monthly forum for sharing ideas and coordinating efforts among the involved agencies. Time: 7:00 AM on the 1st Thurs. of each month in the Freeman Building at the Prescott Rodeo Grounds, 840 Rodeo Dr. The public is always welcome to attend. Becoming a volunteer is a rewarding experience.
WILDLAND DEFENSIBLE SPACE PROGRAMS
Defensible Space Grant
Central Yavapai Fire Department recently was awarded a 90/10 grant through PAWUIC that expires September 30, 2017. CYFD will provide pre and post property assessments for creating defensible space to homeowners at their request.  This includes photo documentation as well as a written recommendation of hazardous fuels to be mitigated. The homeowner will hire a licensed contractor to complete the recommended work. Upon completion, the property owner can be reimbursed up to 90% of their expenses. The maximum reimbursement is 90% of $1,000.00/acre, up to 1 acre.
For this grant CYFD estimated that 26 acres within the Williamson Valley corridor and Granite Oaks subdivision would have defensible space work done. Most property owners have approximately
¼ – ½ acre of defensible space cleared around their home. We are hoping that residents in this area will participate and we can use up the allocated funds. Once the funds are used up we still provide defensible space assessments to property owners, just with no reimbursement.
For an appointment residents can call CYFD at 928-759-9933.
Central Yavapai Fire District will continue its dedication to provide fire wise protection for all Williamson Valley homeowners.
Happy New Year,
Rick Chase, Fire Marshall
Central Yavapai Fire District
For Williamson Valley Fire District Residents
The Williamson Valley  Fire Department will also assess your property and discuss how to make it defensible. Call the Department at (928) 717-2304 to schedule an assessment.
CODE RED EMERGENCY NOTIFICATION SYSTEM
The Yavapai County Sheriff's Office now utilizes CodeRED® as its Emergency Notification System(ENS). With this service, we can send messages to residents and businesses within minutes with specific information when an emergency or time-sensitive issue arises.
Although ENS does contain published landline phone number information by default, the Sheriff's Office may only get landline phone data updates twice a year. This is why it is vital that you register all your phone numbers, including mobile numbers, directly to assure contact in an emergency.
By signing up or opting-in, you may enter alternate phone numbers and/or modes of contact. You may also specify your primary contact mode. The opt-in process will require that you have a valid email address. A confirmation email and/or text message will be sent upon completion of registration (will be sent from noreply@ycsoaz.gov and may take up to 5 minutes). Once registered, you may opt-out at any time.
When delivery of the alert to your primary contact mode fails, the system will automatically fall back to other methods. With respect to phone notifications, if the system detects an answering machine, it will deliver the message to voicemail. If the phone is not answered and no answering machine is detected, the system will redial the number at a later time or, if specified, fall back to another contact mode. When the call appears on your caller-id, it will display the Yavapai County Sheriff's Office business number: (928) 771-3260.
Please, NEVER REPLY to Alert message emails or text messages! Instead, please call (928) 771-3260.
To register your phones on the Code Red system, go to http://www.ycsoaz.gov/community/emergency-preparedness/ens/
YAVAPAI COUNTY SERVICES
YAVAPAI COUNTY SERVICES
The following provides contact information for important Yavapai County offices:
Yavapai County Website:  www.yavapai.us
Yavapai County BOS Supervisor,District 4
Craig Brown
Email:  web.bos.district4@yavaypai.us
Phone:  928 771-3200
Assessor's Office
Pam Pearsall, County Assessor
Email:  web.assessor@yavpai.us
Phone:  928 771-3220
Development Services
Steve Mauk, Director
Email:  web.development.services@yavapai.us
Phone:  928 771-3216
Phone Main Office:  928 771-3214
            Divisions:
Addressing
Building & Safety
Customer Service & Permitting
Environmental Services
Septic Inspection Request Line:
928 771-3562
Permit Research Line:  928 771-3465
Email including Permit Research:
development.services.requests @ yavapai.us
Elections & Voter Registration
Leslie Hoffman, Recorder
Lynn Constable, Elections Director
Janine Hanna, Registrar of Voters
            Voter Registration 
Email:  web.voter.registration@yavapai.us
Phone:  928 771-3248
            Election Services
Email:  web.election.services@yavapai.us
Phone:  928  771-3250
Facilities and Parks
Kenny Van Keuren, Director
Email:  web.facilities@yavapai.us
Phone:  928 771-3115
Flood Control
Dan Cherry, Director
Email:  web.flood.control@yavapai.us
Phone:  928-771-3197
Flood Status Message Line:  928 771-3196
Public Works
Byron Jaspers, Director
Email:  web.public.works@yavapai.us
Phone:  928 771-3183
Roads Division
            Doug Federico
Email:  web.public.works@yavapai.us
Phone:  928 771-3177
Emergency Management
            Denny Foulk, Director
Email:  web.EM@yavapai.us
Phone:  928 771-3321
Yavapai County Sheriff's Office
Scott Mascher, Sheriff
David Rhodes, Captain
John Russell, Chief  Deputy
Frank Barbaro, Northern Area Commander
Email:  web.sheriff@yavapai.us
Phone:  928 771-3260 (Non-emergency)
Northern Area Sub Station – Williamson Valley –
928 771-3277(non-emergency)
WON'T YOU PLEASE JOIN US?
WVCO is volunteer-based, and works diligently on your behalf to keep Williamson Valley a beautiful, rural community. This is done through many avenues, including, but not limited to:
Providing education for WV residents through newsletters, emails,  community meetings regarding development, zoning, water, roads, politics, as well as informational topics like fire-wise landscaping, native animal issues, and so on.
Serving as a voice of the WV community to public officials and organizations.
Working with other unincorporated communities to increase our voice in the county.
Advocating for a reasonable WV road plan, and water management and long-range planning, and much more.
WVCO has become a well-recognized and respected organization. The more members we have, the more representative and helpful we can be. It's a great resource for information. Isn't it nice to have somewhere to go (our website), and have someone to contact with your questions, concerns, opinions, etc?
We listen!
So, please join the organization today (or renew your membership) for an annual membership fee of only $25.00 per household!  This money helps with publishing the newsletter, filing fees, research fees, supplies, etc.  Help us to be the best research arm and advocacy group, keeping our community updated on current happenings affecting WV.  Your membership shows your support for our community, and helps ensure that we will maintain the quality, character and beauty of this special area that we all call home.
Also, we greatly value your input.  Visit the website, williamsonvalley.org, come to the community meetings.  Let us know how you feel and what your vision is for Williamson Valley. Your contribution and insights are appreciated.
Thank you!
Where is the Williamson Valley Community?
Some of you may wonder what or where is the Williamson Valley(WV) Community. The WV Community is united by Williamson Valley Road from its intersection with Iron Springs Road at the south end to Campwood Road at the north end. All communities or homes that access Williamson Valley Road are considered part of the WV Community. The map below shows this area.